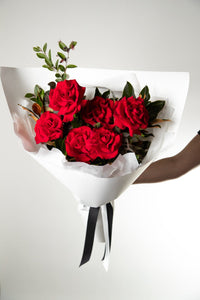 Red Rose! It's no secret that red roses
signify love
. ...
Available in 6, 12, 24 long Stem red roses 
Mixed with the best and freshest greenery available that morning!
Wrapped with beautiful ribbon and a FREE valentines card to add your personal love message!
Please add your message to our free Valentines card at checkout in our note section or please email bloomedinaugust@gmail.com with your order number.
Only available for delivery 14TH FEBRUARY 2022