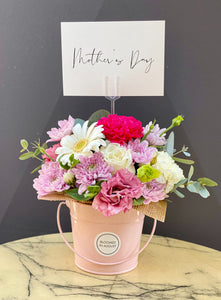 CELEBRATE MOTHER'S DAY WITH A FLORAL ARRANGEMENT THIS YEAR!
Spoil Mum with our Mother's Day Pot! Available in 2 sizes: Small & Medium 
Pictured is our size Small
Featuring a timeless mix of Chrysanthemums, Delicate soft lisianthus, Roses , Carnations and more! It Creates a gorgeous gift that is so sweet & delicate!
Please add to cart our Mothers Day Card if you would like to send a message!
Please note : Flowers/colours may vary on the day depending on availability that morning. We will try our best to match colours but no matter what it will be made with great love & light.
DELIVERY DATES: Please select your delivery date at checkout!
We will be delivering over 3 days.
FRIDAY MAY 7TH
SATURDAY MAY 8TH
SUNDAY MAY 9TH -Mother's Day
DELIVERY TIMES: We are unable to book in exact times for your deliveries on these days as we will be delivering the most efficient route for that day. Deliveries will start 9am-6pm
For Further Information please email bloomedinaugust@gmail.com